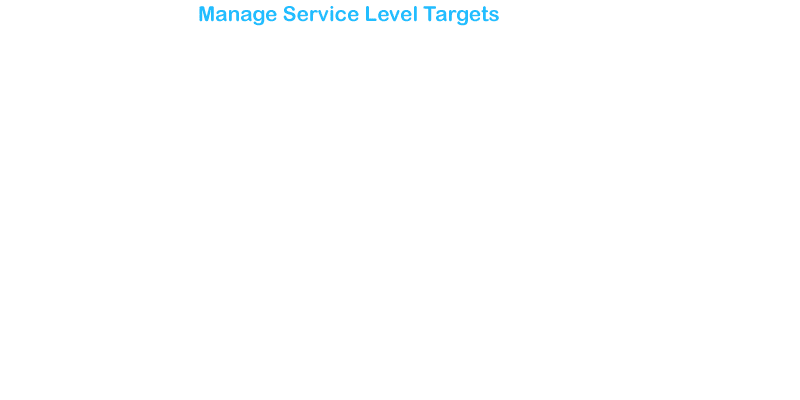 Service Level Management
SMART Service Level management facilitates monitoring of services and proactively generates alerts on pending SLA breaches and provides critical performance metrics. Easily track SLAs based on services, priorities, business units and customer class.
SMART SLA Management module allows documenting IT & Business Services that are designed to meet the Service Level Requirements (SLR's) at mutually agreed Service time targets.
SLA Management helps in enhancing stronger relationship between the service providers & customers, based upon common business goals & objectives.
Benefits
Gather historical and real-time data on service performance
Provides all key performance related information, which is required to make informed decisions regarding SLAs
Track and report service performance against SLAs
Proactively alert on all impending Service bottlenecks, so they can be resolved before impacting service performance
Features
Features to capture information on business criticality & service level targets
Able to prioritize incidents, problems, changes based on SLA's
Link clients and staff with holidays and work schedules
Provides a stated support level provided to group of users for given business service
Provides the administrators with simple SLA components to configure Service Level Targets, without need for dealing with programming code
Ability to define and manage services with Availability Info
Define multiple support centers, business working hours & holidays
Activities are adjusted based on operating hours, accounting for nights, weekends, & Holidays
Defines individual milestones; system initiates notification & escalation upon breach of SLA's
Unavailability of a technician will automatically re-assign incidents, problems & service requests by sending an email/SMS alert to the alternate technician
Supports Escalation notification through multiple means including e-mail & sms phone text
Ability for Application Administrator to configure escalation notification process
Provides information on service target breaches